World Kidney Day: Early diagnosis can help kidney disease
2 min read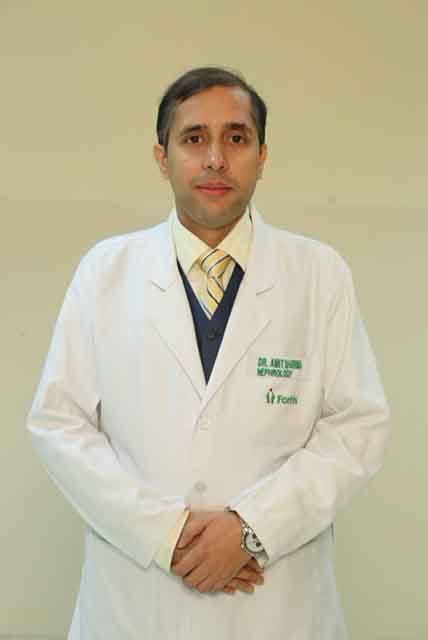 Chandigarh, March 9, 2022: Kidney disorders have affected people across the world and have led to untimely deaths. To spread awareness on maintaining good kidney health and prevent Chronic Kidney Disease and its related disorders, World Kidney Day is observed on the second Thursday of March every year. The theme of this year's World Kidney Day is "Kidney Health for All."
Dr Amit Sharma, Senior Consultant, Nephrology, Fortis Hospital Mohali in an advisory explains the causes, symptoms and ways to prevent kidney diseases.
Discussing how the kidney impacts the overall health of an individual, Dr Sharma, said, "Kidneys help filter blood and remove toxins from the body. If the kidneys are not functioning well, toxins build up and cause gradual loss of kidney function. Kidney problems affect people of all age groups. This health condition should not be ignored and warrants immediate medical intervention."
Symptoms
Patients suffering from kidney problems exhibit certain noticeable symptoms such as:
1. Swelling on the face and feet
2. Shortness of breath and fatigue
3. Decreased appetite
4. Reddish-coloured urine and decreased urine output
5. Nausea, confusion and irregular heartbeat
6. Anemia or iron deficiency.
Kidney disease in younger population
Kidney disease also affects children. This is attributed to hereditary causes and Nephrotic Syndrome. Sometimes children with kidney disease don't have any symptoms and may end up getting diagnosed with end-stage renal disease. Chronic Kidney Disease in children is primarily due to urinary infections and glomerular disease, wherein the kidneys don't function normally due to chemical imbalance.
Can dialysis be reversed?
Dialysis is a procedure to remove waste products from the blood as the kidneys don't function properly. Several kidney diseases such as Acute Kidney Failure due to medication and infections, Interstitial Nephritis, Glomerulonephritis etc, can be successfully treated if diagnosed early. With immediate medical intervention, a patient need not require dialysis at all.
Prevention is better than cure
The golden rules to keep your kidneys healthy and prevent infection are:
1. Keep fit: Ensure to undertake physical activity as a healthy body helps fight off infection.
2. Control blood sugar level: High blood sugar level damages the kidneys as they filter excess blood.
3. Watch your BP: Keep a tab on blood pressure to avoid the harmful effects of blood pressure on the body.
4. Consume balanced diet: A diet comprising fat, proteins, carbohydrates and other essential nutrients provides the body nutrition to fight infection.
5. Adequate fluid intake: Keeping the body hydrated helps remove waste from the blood through urine.
6. Avoid smoking: Smoking increases protein in the urine, which can damage the kidneys.
7. Avoid over-the-counter pills: Misuseof over-the-counter pills are harmful for renal health.
8. Regular check-up: To prevent kidney diseases and infections, ensure to get kidney functions checked regularly