Modern Bazaar's Fun-A-Thon – Chandigarh Runs for a Cause
2 min read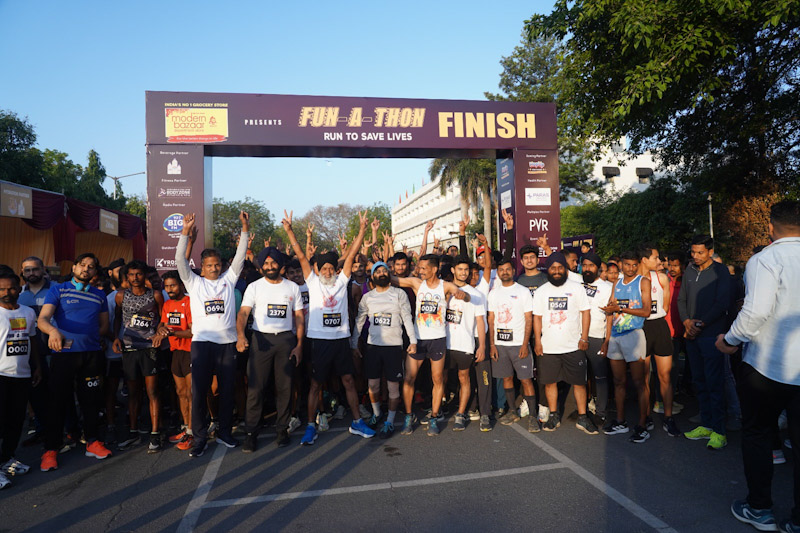 Chandigarh, April 11, 2023: Fun-A-Thon event was held at Modern Bazaar Sector 22-B here. It was a first of its kind experience as it brought together participants from all walks of life to challenge themselves, promote health and wellness, and support a worthy cause of heart surgery for needy patients.
The event was graced by the presence of Mayor Anup Gupta who felicitated the winners along with Pardeep Bansal (Director, HLP group) and boosted their enthusiasm. The marathon was started with a flag off by Kunaal Kumar (Director, Modern Bazaar), and Ankur Chawla (Director, HLP group).
The Funathon race track spanned a distance of 5 kilometres. The race kicked off from Modern Bazaar Sector 22 parking lot, and the runners passed by sector 17 entry point and went through the 17/18 and 8/9 lights they made a U turn from Sector 9 entry point, heading towards Aroma light point with the finish line in the Parking of sector 22-B. The safety of the event was fully taken care of by the Chandigarh police. Their tireless efforts and unwavering commitment helped create a secure environment for all participants, making the event a resounding success. The winners were declared under the technical supervision of Gurmeet Singh, Professor at the Department of Physical Education, Punjab University and his extremely talented team and further the winners were awarded with prizes worth more than Rs. 2 lakhs.
Fun-A-Thon was made more lively and fun by the beat of the dholis and the super contagious energy of RJ Gurri from 92.7 Big FM.
While the Presenting sponsor was Modern Bazaar, gaming partner was Hop Up; Beverage partner- Jal; Health partner- Paras Hospital; Fitness partner- Bodyzone; Multiplex partner- PVR; Radio partner- BigFm; Snacking partner- Orion; Photography partner- Amit Shelly AroraEvent partner- 361 Media; Outdoor partner- Kyross; Running partner- Chandigarh Distance Runners; Ticketing partner- Decathlon, City woofer; Hospitality partner- Zafrani; Hotel partner- Toy Hotel and Health Food partner- MyFitness.
The winners of the Fun-A-Thon 2023 were recognized for their outstanding performances. In the kids' races, young runners displayed incredible energy and determination, making their families and the community proud. The women's category showcased the remarkable athleticism and tenacity of female runners, who demonstrated their excellence in the sport.
The open races were fiercely competitive, with runners pushing their limits and achieving remarkable times. The event was also supported by warmup and bhangra sessions by Bodyzone and a stunning dance performance by the group dancing shadows.
361 Media, the event partner of Funathon conceptualised and executed a safe and well-organized event keeping in mind the safety of the runners, water stations and medical support in the route, refreshments & fun for all so that it ensures a smooth and enjoyable experience for all participants. Overall, Fun-A-Thon 2023 was a resounding success, with participants from all walks of life coming together to celebrate athleticism, community engagement, and healthy living for a good cause.