MSME sector is an important pillar and element of Indian economy: Bhanu Pratap Singh Verma
3 min read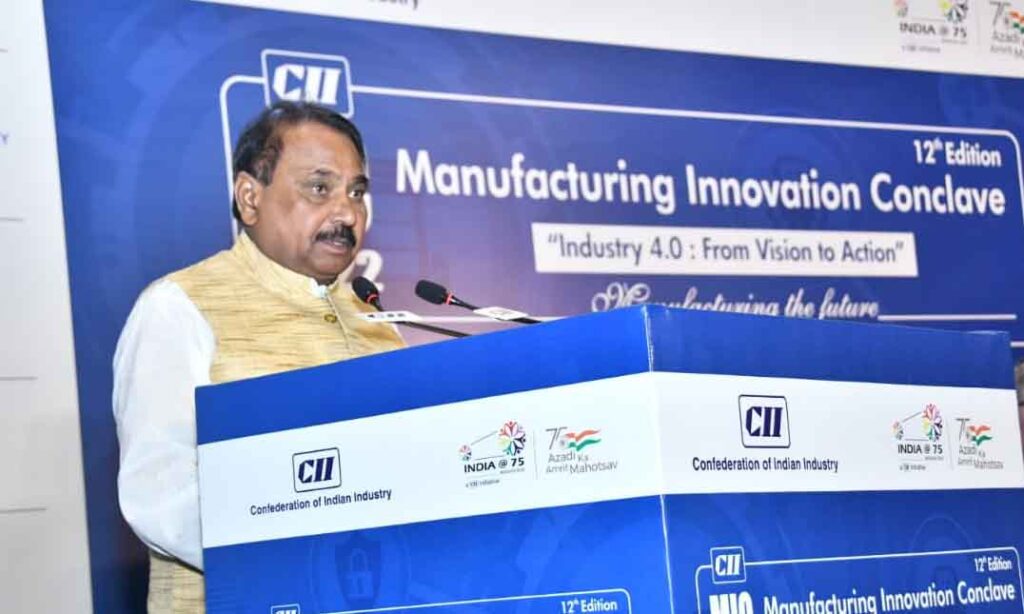 New Delhi, August 26, 2022: CII concluded its Manufacturing Innovation Conclave in New Delhi today. Bhanu Pratap Singh Verma, Minister of State for MSME, Govt of India was the Chief Guest at the occasion. Emphasising the importance of MSMEs, Verma mentioned that India's manufacturing industry depends heavily on MSMEs. A lack of MSMEs would lead to a loss of jobs and exports in manufacturing. "Prime Minister has launched various development schemes which are intended to ramp up capacity & coverage of MSMEs. Such schemes will give thrust to the AatmaNirbhar Bharat Abhiyan by spurring innovation, ideation, incubating new business and entrepreneurship by developing quality standards, improving practices, enhancing market access, deploying technological tools and Industry 4.0 to make MSMEs competitive and self-reliant."
Indian Manufacturing Sector has marked its presence in the global manufacturing sector and as per the World Bank Report, India is a leading player in innovation in biotechnology, pharmaceuticals, automobile parts and assembly sectors. While innovations in the sector come from both large firms as well as MSMEs, the MSME sector is demonstrating higher innovation intensity compared to the larger firms.
In his address, Sundeep Kumar Nayak, Director General, National Productivity Council (NPC) said that NPC will boost digital innovation through the Centre of Excellence for decisive improvement in MSME Ecosystem. He added that NPC has been always there to assist and set the roadmap for transformation through 4.0.
In his inaugural remarks, Vijay Rai, Chairman, CII Delhi Panel on Technology and Chief Growth Officer – Asia Pacific & Executive Board Member, Day1 Technologies (Atlanta USA) said, "The Government and Industry play a crucial role to encourage successful implementation of Industry 4.0. Manufacturing is undergoing a global upheaval with the infusion of digital technology and is in a transition phase moving from physical to cyber-physical systems with the advent of Industry 4.0."
Addressing the participants, Capt (IN) Vikram Mahajan Retd, Head of Govt Relation – India & South Asia, Rolls Royce mentioned that organisations should embrace and leverage AI and Industry 4.0 for smarter manufacturing. A new age of connected technologies and data-driven insights is now upon us and is changing the way we live, work, and interact with each other, he added.
In his address, William Blair, Chief Executive, Lockheed Martin India said that MSMEs are the new age catalysts for the Indian economy. He mentioned that organisations should be well placed to partner in areas of unmanned platforms, Artificial Intelligence and machine learning among others.
Speaking at the Conclave, Tarun Mishra, Founder, Covacsis India said that effective implementation of technology to reduce the Capex. A forward-thinking approach should be undertaken to avoid overlooking issues. He emphasised providing customers with enhanced energy management solutions and boosting its share of service offerings by working together leveraging technologies like IoT, AI, and ML.
Rajeev Singh, Partner and Automotive Sector leader, Deloitte India said it's time to act on the next five-year vision for a technologically equipped and advanced economy. "With India's vision of being a 5 trillion dollar economy, the manufacturing sector will play a catalyst to the Indian economy and GDP growth for the future of the nation", he said opined by Singh.
The Conclave aimed to provide a platform to discuss the various aspects and Industry lens for the manufacturing sector to gear up for the future by adopting several advanced manufacturing trends that are going to change the manufacturing landscape in times to come and a White paper on CII- Deloitte report on Industry 4.0: From Vision to Action was released during the conclave. The summit saw speakers from TCS, Infosys, IBM, Schneider Electric and others. The summit was attended by over 200 participants.