Open Network for Digital Commerce (ONDC) to Kickstart a New Era in Indian Retail: Anil Agrawal
3 min read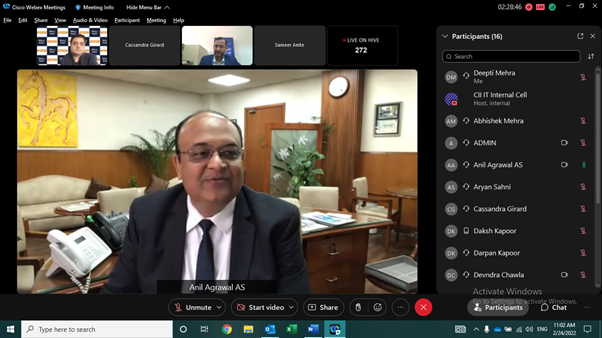 Chandigarh, February 24, 2022: "The Government of India is working towards enabling a shift of Buyer & Seller Transactions from central platforms to a decentralized network of interconnected ecosystem actors", said Anil Agrawal, Additional Secretary, DPIIT, Government of India at the CII NR Retail & Omnichannel Summit 2022 organised over CII's virtual platform today.
Agrawal mentioned that as eCommerce is challenging for small sellers, the Government of India has set up an Open Network for Digital Commerce, commonly known as ONDC. "The aim of ONDC is to ensure shift from siloed platforms, storing and exchanging value to a decentralized network of interconnected ecosystem actors, orchestrating the flow of value", added Agarwal. Talking about the future of retail, he further added, "The potential is tremendous and Retail Sector is poised to grow at a very rapid pace and contribute significantly to the USD 5 Trillion Economy vision."
While setting the context of the summit, Devendra Chawla, Chairman, CII NR Retail & Omnichannel Summit & MD & CEO, Spencer's Retail & Nature's Basket emphasized that like manufacturing, in the retail space as well, many international investors were looking towards India under China+1 strategy as an important strategic partner for ensuring uninterrupted global supply chain.
In his special address, Suhel Seth, Managing Partner, Counselage India mentioned that the vision of $5 Trillion Economy could be achieved only when the weakest link in the system would be strengthened and in terms of retail sector this meant that the Local Kirana Stores should be strengthened.
Speaking on the occasion, Lalit Agarwal, Chairman, CII regional Committee on Retail & FMCG & MD, V-Mart Retail Ltd said, "Heightened customer expectations, massive advancements in technology, and the rise of omnichannel commerce are just a few of the trends reshaping the world of retail." Agarwal emphasized that 'traditional approaches will no longer work in the face of change and now is the time to clearly define new aspirations, make fundamental changes to operating models, and rethink retail.'
Cassandra Girard, Global VP & Head Consumer Industries, SAP in her address highlighted the Six Pillars of Customer Experience Excellence for retailers across the globe viz. Integrity, Resolution, Meeting Expectations, Empathy, Personalization and Minimizing Customer Effort.
Sameer Amte, MD – Retail Lead India, Accenture Consulting Services made the theme presentation and emphasized that Digital Commerce is revolutionizing the Retail Sector and the need of the hour is how fast and efficiently the players across the sector adapt to and efficiently include Digital Commerce in their business models.
While concluding the inaugural session, Darpan Kapoor, Co-Chairman, CII Regional Committee on Retail & FMCG & Chairman, Kapsons Group said that the support being provided by the Government of India in terms of policies for the retail sector would definitely give a fillip to the organized retail sector in our country thereby leading to its growth in a systematic manner.
"We have seen a rapid triple-figure growth in e-commerce sales over the last year and at the back of this growth, we will continue to invest significantly while staying focused on innovating ahead of the curve in the B2C and B2B space," shared Sanket Ray, President- India & South West Asia Coca-Cola.
The Who's Who of the retail sector including senior officials from WebEngage, The Coca Cola Company, Pepe Jeans, Cavin Kare, Tata Consumer Products, Trade Wind, Nestle India, Bharat Pe, Fireside Ventures, ITC Ltd, Equanimity Investments, Fable Street, Mamaearth, The Eat Better Company, Myntra.com, Tata Cliq, Elevation Capital, and many others addressed more than 275 participants and brainstormed on emerging trends/concepts in the Retail Sector.