Chandigarh Design Institute SXILL recognized at EduSpark Awards 2023
2 min read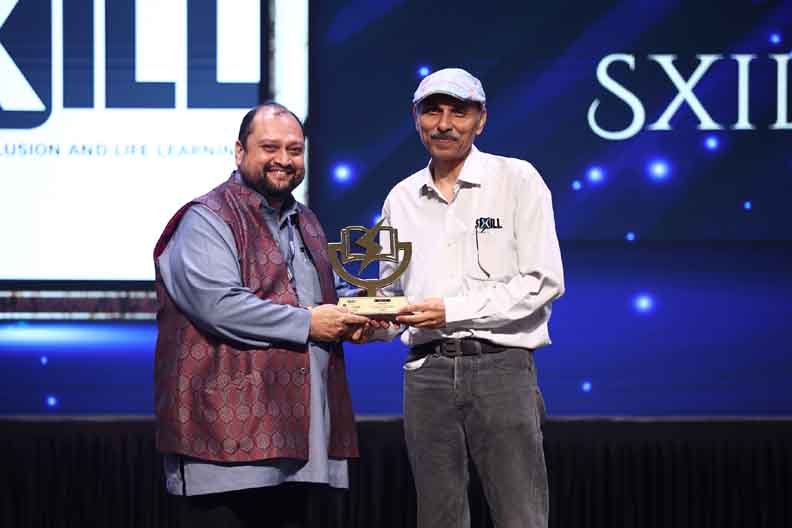 Chandigarh, June 29, 2023: Chandigarh based SXILL (School of Experience Illusion and Life Learnings) was Awarded for its 'contribution to AVGC Education' alongside about 20 other illustrious winners of the Award.
SXILL, founded by Technocrat Neelu Kapoor and Worldskills IDT Expert Prof. Vineet Raj Kapoor, is the only institute in the Tricity to feature in the Award List. SXILL was Awarded the Most Innovative Curriculum Award for 2023 by an illustrious team lead by Dr. Anil Sahastrabuddhe ex-AICTE Chairman and current Chairman NETF (National Education Technology Forum) constituted by Government of India.
AnimationXpress hosted the second edition of EduSpark Summit and Awards 2023. It is notable that SXILL is one of the very few institutes to also win an Award during both the first and second editions of Eduspark Awards.
SXILL is today the pioneer in Animation, UXUI Design and Game Design Sectors to introduce upskilling under the direct mentoring and guidance of Industry Expert.
Neelu Kapoor, the Founder of SXILL and herself a National Jury (Graphic Design) for NSDC backed Indiaskills said, "SXILL offers a unique 'Design your own Curriculum' option in line with the National Education Policy as well as a World Class Animation and Design Finishing School SXILUP for Animation and Design passouts from Colleges. In this endeavor SXILL is backed by top studios like Lakshya Digital, Digitoonz, Greengold (Chhota Bheem), Technicolor, and more. Our students consistently win International Awards like 11secondclub and GO48! SXILL students are known to fast track to senior positions early."
Speaking on the occasion, the Founder Vineet Raj Kapoor, India's Expert (Industrial Design) for Worldskill said "I thank my staff and students for this grand success. This honour is the result of persistent research on curriculum and delivery methods for 26 years which has now created a direct employment pipeline where the student is able to upskill in the field of their choice under guidance by Industry Experts. The curriculum itself can be designed by the student to suit their interests and aptitude."
Prof. Vineet Raj Kapoor, SXILL was also invited by FICCI in March 2022 to represent the Indian Angle to Dubai Expo for the Round Table on "Fostering Skilling ecosystem by exchange of Knowledge, service & resources" Media & Entertainment Skills Council, (MESC), one the pioneer council for skill training for M&E domain, hosted the Industry-Academia round table discussion in association with FICCI on 23rd March at Dubai Expo 2020 in Dubai. He also was the Invited as the International Key Speaker at World Design Organization backed event at Moscow, Russia on World Design Day on 29 June 222. He also featured as a prescreening jury for Smart India Hackathon 2022 (India), Eurasian Future Skills Competition (Russia), and Khabarovsk International Competition (Khabarovsk), BRICS Future Skills Challenge (China) amongst others.