Fortis Mohali to organize ENT Conclave on cochlear implant surgeries & robot-aided surgeries
2 min read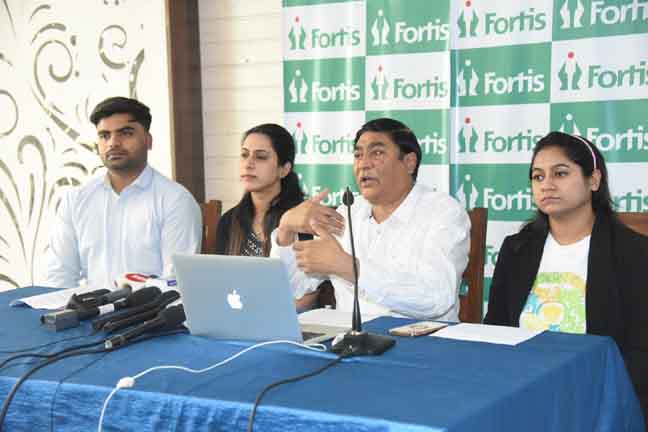 Chandigarh, April 27, 2023: To highlight the latest advancements in surgical interventions in Ear Nose and Throat (ENT), the Department of ENT, Head and Neck Surgery, Fortis Hospital Mohali, is organizing a two-day conference, Otorhinolaryngology: Surgical Conclave 2023, at the hospital from 29th-30th April. The brainchild of Dr Ashok Gupta, Director, Head, ENT, Fortis Mohali – The two-day surgical conclave will emphasise on diagnostic, surgical and post-rehabilitation facilities in cochlear implant surgeries conducted on children below the age of 8 years with excellent surgical outcomes.
Dr Ashok Gupta, Director, Head, ENT, Fortis Hospital Mohali, will also showcase a Live surgical demonstration on a patient suffering from oral cancer using the world's most advanced 4th Generation Robot – Da Vinci Xi.
The academic feast is being organised in collaboration with the All India Rhinology Society and the Punjab Medical Council. The conference will be attended by more than 50 renowned otolaryngologists from across the country, besides 250 delegates, including junior and senior residents, from various medical colleges.
Dr Gupta, who has conducted more than 1,400 cochlear implant surgeries with empowering surgical outcomes, said, "The incidence of deafness among newborn babies is 4 per 1000 births. Out of this, 20-25% have profound hearing loss which needs to have auditory feedback for the development of speech. As per the National Programme for Prevention and Control of Deafness (NPPCD), every newborn should undergo hearing screening at birth so that appropriate treatment can be initiated to avoid burdening the healthcare system."
Giving information on the conference, Dr Gupta, said, "The conference will emphasise on the study of ailments related to the ear, nose and throat, and the latest advancement in otorhinolaryngology. Live sessions for Cochlear Implantation and Trans Oral Robotic Surgery will be conducted. The event will also include Live Surgery sessions, one-to one-interaction with the operating faculty, panel discussions, poster presentation and quiz."
Dr Gupta further added, "Robot-assisted surgery has revolutionized the treatment of oral cancer surgeries. It is the latest form of minimal invasive surgery and provides a 3D view of the operative field. Patients have minimal blood loss, less pain, less scarring, shorter hospital stay and faster recovery. The first FDA accreditation to the use of robotic surgery in oral cavity cancer was given in December, 2009."
Dr Gupta's organising team comprises of Dr Anuragini Gupta, Associate Consultant, ENT; Dr Neha Sharma, Assistant Consultant; and Rishav Kumar, ENT Department, Fortis Mohali.
Aman Arora, Punjab Cabinet Minister will be Chief Guest on the occasion.