Election Commission of India voter awareness contest – "My Vote is My Future- Power of One Vote"
2 min read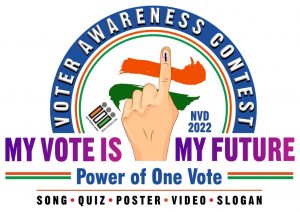 Chandigarh, February 17, 2022: Chief Electoral Officer, Haryana, Anurag Agarwal has intimated that the Election Commission of India on the occasion of National Voters' Day 2022 launched a national voter awareness contest around the theme- 'My Vote is my Future Power of One  Vote' to reiterate the importance of every vote through creative expression. 
While giving information in this regard he said that the National Voter Awareness Contest by the Election Commission of India's SVEEP (Systematic Voters' Education and Electoral Participation) programme taps into the talent and creativity of people, while also strengthening democracy through their active involvement. Accessible for all age groups, it aims at celebrating ideas and content curated on the theme of importance of every single vote in a democracy through crowd sourcing, he added.
Further he informed that there are five categories of contest as part of the national level contest which includes a Quiz, Slogan writing, Song, Video Making and Poster Designing Contest.
He also said that there are three categories under which applicants can participate. The first includes Institutional Category under which Educational Institutions / organizations such as schools, colleges, universities registered under relevant Central or State Government Act can participate. The second category includes Professional Category under which a person whose main source of livelihood is from video making / poster designing / singing or working in any form where major source of revenue is through video making / poster making / singing is considered to be Professional can participate. If selected, the participant shall submit a certificate to testify in the professional category. The third category includes the Amateur Category under which a person who does video making / poster designing / singing as a hobby, for creative urge, but her / his major source of revenue should be from some other means is considered as ' Amateur can participate .
He further said that the top three winners in each category will be awarded attractive cash prizes. Additionally, each category will have cash prizes under a special mention category. The Institutional Category will have 4 special mentions while the Professional & Amateur category will have 3 special mentions each. The entries in different categories will be judged by a jury constituted by the Election Commission of India. No requests relating to claims of re-evaluation of the entries will be considered, he added.
He further informed that in order to participate, the applicant shall go through detailed guidelines, Terms & Conditions on the contest website https://ecisveep.nic.in/contest/.
The participant shall email the entries along with the details to voter contest@eci.gov.in. The name of the <contest > and <category> for which the participant is applying shall be clearly mentioned in the subject of the email. Further in order to participate in the Quiz Contest, the participant shall register on the contest website, he added
He said that last date for submission is March 15, 2022 on the email id: voter-contest@eci.gov.in along with details of the participants.