Series of Events mark World Cancer Day celebrations at Fortis Mohali
2 min read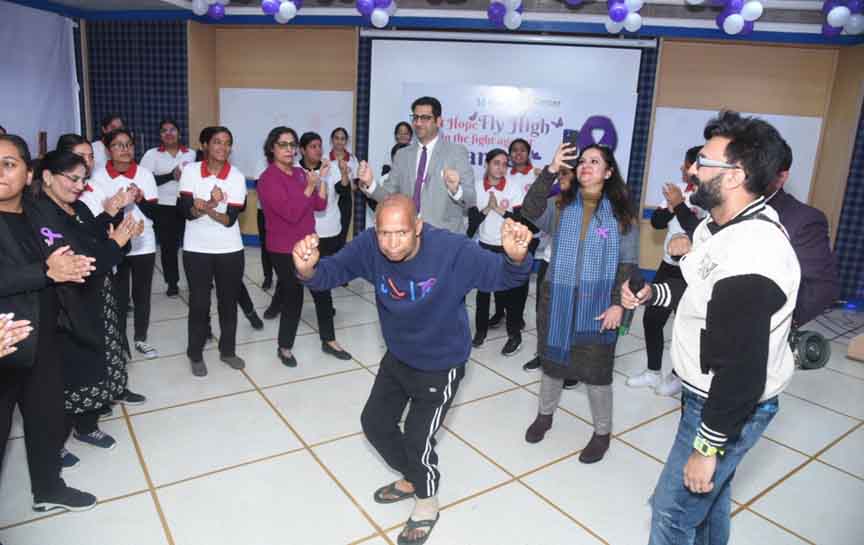 Mohali, February 3, 2023: To mark World Cancer Day and to sensitize the masses on cancer and its related complications, a host of activities were organized as part of the Saarthak Meet – the cancer support group at Fortis Hospital, Mohali, here today. The theme of the cancer day event was '#BreakTheDenial. #DetectToProtect.'
The event kicked off with the lamp-lighting ceremony by the cancer survivors followed by a prayer meet. Interns from the Mental Health and Behavioural Sciences along with the Nursing Department presented a skit to sensitise the audience on the disease. Several cancer survivors shared their personal ordeals of fighting cancer and emerging victorious. RJ Golmaal Gagan from 94.3 FM enthralled the gathering by sharing jokes and anecdotes. This was followed by stand-up comedian Hemant Kumar putting up a mimicry act. The NSS Unit of Mehr Chand Mahajan DAV College for Women, Sector 36, Chandigarh, also took out a Cancer Awareness Flash Mob 'Dhadkan' to mark the occasion. The cancer survivors and the participants were felicitated with momentos.
Dr Jitender Rohila, Consultant, GI-Surgical Oncology, Fortis Hospital Mohali, mesmerized the audience with a song which was followed by a dance session by the participants.
Speaking on the occasion, Dr Rajeev Bedi, Director, Medical Oncology, said, "World Cancer Day is a platform to raise awareness about cancer, its treatment and prevention. Sustained efforts are needed to educate people on the disease. Early screening and diagnosis is the need of the hour. We can beat cancer with appropriate treatment if detected at an early stage. Any abnormal signs and symptoms should be brought to the notice of a doctor immediately."
Ashish Bhatia, Business Head-Rest of India; Abhijit Singh, Head-SBU; Jaspreet Kaur, Unit Head, Administration; Dr Narendra Kumar Bhalla, Director, Radiation Oncology; Dr Naval Bansal, Endocrine & Breast Cancer Surgeon; Dr Shweta Tahlan, Consultant, Gynae Onco-Surgery; Dr Jitender Rohila, Consultant, GI-Surgical Oncology; Dr Ketan Dang, Consultant, Oncology; Dr Arunjeet Kaur, Principal Medical Officer, Oncology; and other staff members were also present during the event.