Identifying the early symptoms can help prevent sarcoma, says Dr Ketan Dang
3 min read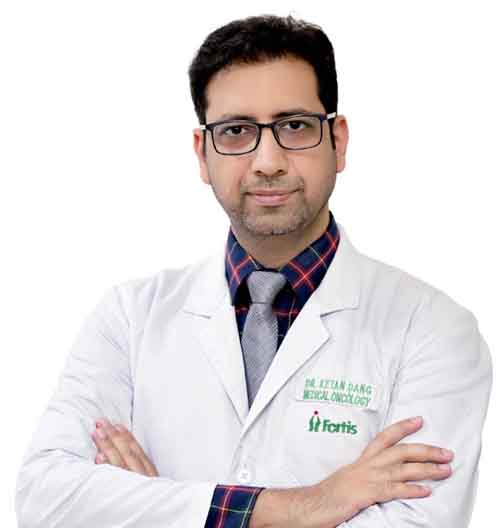 Mohali, July 21, 2023: Soft tissue sarcomas are rare cancerous tumours that arise from mesenchymal cells such as muscle, fat, fibrous, cartilage, nerve and blood vessels. Mesenchymal stem cells (MSCs) are multipotent stem cells found in bone marrow that are important for making and repairing skeletal tissues, such as cartilage, bone and the fat found in bone marrow.
These occur anywhere in the body, though limbs are the most affected. About 60% of the sarcomas originate in the arm or leg, followed by 30% in the torso or abdomen, while 10% occur in the head or neck.
Even as the disease claims several lives, awareness about sarcoma continues to be considerably low. To spread awareness about sarcoma and its related complications, World Sarcoma Month is observed in July every year. The theme of this year being "Let's talk about the Forgotten Cancer."
Recently, a team of doctors at Fortis Mohali treated a 66-year-old woman who had been experiencing uterine bleeding for quite some time. When her condition deteriorated and she started having heavy bleeding, she approached doctors at Fortis Mohali. Medical investigation revealed that she had carcinosarcoma of the uterus. This was followed by chemotherapy and uterus removal surgery. However, the cancer had spread and the patient was diagnosed with metastasis of the lungs. The team of doctors comprising Dr Rajeev Bedi, Director, Medical Oncology and Dr Ketan Dang, Consultant, Oncology, treated the patient. The patient underwent several sessions of chemotherapy, radiation coupled with a surgery to remove the tumour from her lungs. This was a unique case as the Patient had both sarcoma and carcinoma, which had spread to the lungs. However, she was cured and has recovered completely.
Dr Ketan Dang, Consultant, Oncology, Fortis Hospital Mohali in an advisory explains the causes, symptoms and ways to detect sarcoma.
Warning Signs
Stating that certain symptoms required immediate medical attention, Dr Dang, added, "A painless lump or swelling shouldn't be ignored. Some sarcomas may grow and exert pressure on the adjoining nerves and organs, thereby causing pain and breathing problems. Bone sarcoma causes pain and/or swelling in the arm or leg, trunk or the back. It affects joint movement, can cause fever and fracture of bones for no apparent cause."
Types
Dr Dang said sarcomas are of various forms such as soft-tissue sarcomas, synovial sarcoma, liposarcoma, de-differentiated liposarcoma, malignant peripheral nerve sheath tumour, low-grade fibromyxoid sarcoma, ewing's sarcoma, osteosarcoma, chondrosarcoma etc.
Diagnosis
The diagnosis of sarcoma includes biopsy and histopathologic evaluation of the tumour followed by immunohistochemistry and molecular testing. "Complete evaluation also involves imaging of the chest, abdomen and rest of the body usually through a PET-CT scan," added Dr Dang.
Treatment
The treatment procedures include Surgery, Radiotherapy and Chemotherapy depending on the stage and type of the tumour. "At Fortis Hospital Mohali, we do Molecular Testing of these complex tumours on a routine basis and administer the most advanced Targeted Therapy and Immunotherapy for sarcoma patients. The Tumour Board comprising a surgical oncologist, medical oncologist, radiation oncologist, radiologist and pathologist, deliberate on the best line of treatment and meticulously plan treatment strategies for individual patients for best results," added Dr Dang.