Dr Vinod Kumar's Poetry collection Nayi Dishayen released
2 min read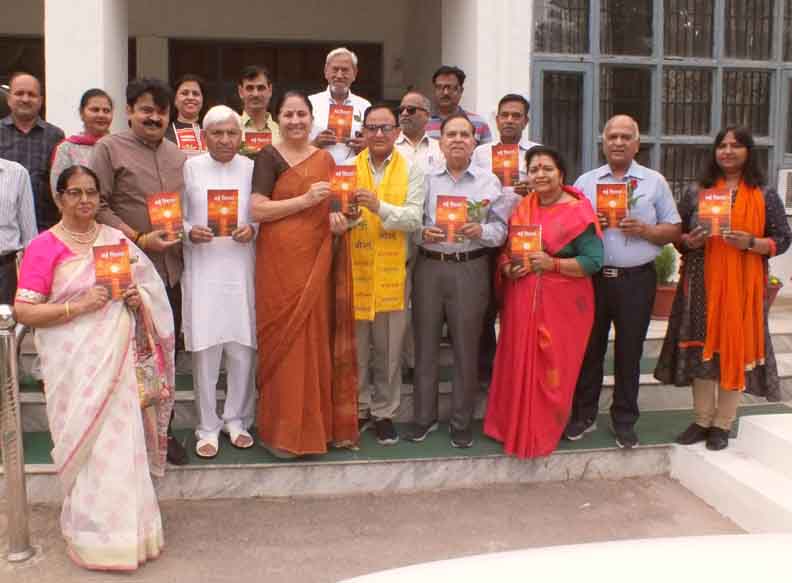 Chandigarh, May 14, 2023: There are 93 poems in my poetry collection named Nai Dishayen, which fulfills the rituals and social concerns of an energetic life. This was said by Dr. Vinod Kumar Sharma, writer and poet of poetry collection Nayi Dishayen during the release of his book.
Dr. Vinod's poetry collection book was released at Government College of Education Sector 20 on Saturday by the Principal of the college, Dr. Sapna Nanda. During this, Prem Vij, Dr. Subhash Rastogi, Subhash Bhaskar, Sushil Hasrat Narelvi, Ashok Nadir, Vijay Kapoor, Lajpat Rai Garg, Dr. Anish Garg, Vimla Guglani, Santosh Gupta and Neelam Trikha were also present with him.
The book written by Dr. Vinod is the third poetry collection, and before this he has written two other poetry collections Badte Kadam and Shikhar Ki Aur. He has got good response from the readers for these poetry collections.
Dr. Vinod Sharma told that when he was doing MA in Economics from Evening Department of Punjab University, during that time compositions were invited by Hindi Department. "When he went to give the creations to the head of the Hindi department, he asked whether these were his original creations? Hearing this question, my happiness knew no bounds. I felt I was heading in the right direction. I was made the student editor of Hindi department."
"After this my creations started getting a new direction. My works started getting published in newspapers and magazines. After this, I became so busy in teaching and journalism that the work of literature had to be stopped but after an accident the writing work had to be started. Writer Prem Vij joined the Samvad Sahitya Manch. I started sharing my creations on its WhatsApp group. All the litterateurs associated with this group appreciated my writings a lot", he said.
The litterateurs who did not know me also called me after taking the number from the WhatsApp group. Kedarnath Kedar was specially among them who praised my work. Ramesh Kuntal Megh, Dr. Kailash Ahluwalia, Dr. Chandra Trikha, Prem Vij and most of the poets from tricity and country and abroad have appreciated the creations.