Experts meet auto drivers to discuss shift to electric autos in Amritsar            
3 min read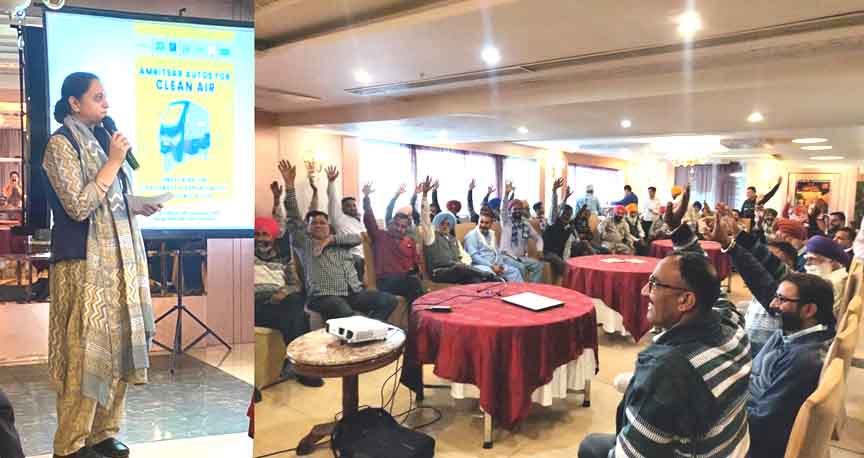 Amritsar, November 2​6​, 2022: In a unique effort to tackle the deteriorating air quality in Amritsar by encouraging more electric auto rickshaw numbers on the roads, a meeting with experts was organised at Hotel HK Clarks Inn here today. The main aim was to educate and better inform auto-rickshaw drivers about the benefits of switching to electric rickshaws and also to address their concerns. 
The meeting organised by EcoSikh in collaboration with Clean Air Punjab – a citizen's initiative, and concerned citizens from Amritsar was attended by auto rickshaw drivers, unions, representatives of the RAAHI (Rejuvenation of Auto-rickshaws in Amritsar through Holistic Intervention) project in Amritsar, concerned Amritsar citizens, and a panel of experts from the Council on Energy, Environment and Water (CEEW).
Titled 'Unpacking the Challenges and Opportunities of Electric Autos' the group held a thorough discussion on the city's rising air pollution as well as the joint action that needs to be taken up by the government and community to ensure clean air.
As per Supreet Kaur, President EcoSikh it was last year in December that concerned over rising air pollution and also to enhance public transportation in the city the RAAHI initiative was launched but somehow auto drivers remain hesitant and hence there were very few takers for electric auto.
"As a group of concerned citizens, we need to engage with the auto unions and drivers as they are an important stakeholder if the city has to achieve clean air. Through this meeting we wanted to bring them face to face with experts so that they are not only better informed but also can themselves resolve all their queries and concerns about electric auto," she said adding that they were now hopeful that the auto unions in Amritsar will not only be better informed about the issue of air pollution and also how they can convert to electric auto rickshaws by benefitting from the subsidies.
Speaking at the event, Rajeev Giri, Environmental Nodal officer, Amritsar Smart city limited said that under this scheme launched by the Punjab government under the Smart City Mission, a cash subsidy of Rs 1.25 lakh is being given for replacing old diesel auto-rickshaws with e-autos and loans on easy instalments from public sector banks. "At present the operational cost of diesel auto is between Rs four to five per km but in an e-auto, it's just Rs.0.68 per km. This is what we want the drivers to understand that running e-autos will not only increase their earnings but also significantly help in cleaning the air.," he said.
Highlighting the need for switching to electric rickshaws, Himani Jain- Senior Programme Lead, CEEW said, "A 2022 study by CEEW suggests that in the city of Kochi itself 32,000 e-autos by 2030 will be replacing the current Internal Combustion Engine (ICE) fleet. It highlights that auto-rickshaw drivers across cities in India will have an enhanced daily savings of up to 30% post the e-auto transition." Jain added that the RAAHI scheme implemented by Amritsar Smart City Limited has spearheaded the adoption of e-autos in the city.
Convenor of the largest women's network in Amritsar, Nidhi Sandhwani pointed out that as a part of clean air project they want to enhance and improve the air quality with the help government authorities and citizens for which key stakeholders will need to work together for public health and public welfare by regulating hazardous air pollutants.
Speaking during the discussion, Indu Aurora, President of Voice of Amritsar said that through this meet the aim was to encourage auto drivers to change to eco- friendly autos knowing that it will not negatively impact their livelihood. "Punjab is the pride of India and Amritsar is a very special city, and here we all have a perfect opportunity to help Amritsar play a leadership role and set example for the rest of India when it comes to adoption of electric auto rickshaws as the quality of air will define the quality of our future," she said.