'Patients suffering from asthma beware on Diwali': Dr Mandal
2 min read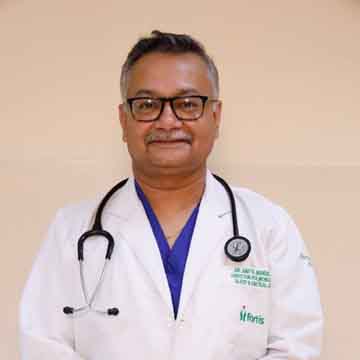 Mohali, October 22, 2022: While green crackers have been allowed in Chandigarh, city residents, especially those suffering from respiratory disease need to be cautious. Even though these crackers are less polluting, they do add to the pollution.
Green Crackers are developed by the Council for Scientific and Industrial Research – National Environmental Engineering Research Institute (CSIR-NEERI).
Dr. Amit Kumar Mandal, Director, Pulmonology, Sleep & Critical Care, Fortis Hospital Mohali in a Diwali advisory said, persons suffering from asthma, bronchitis and other respiratory ailments should start taking precautions several days before the festive season itself. There is an increase in particulate matter and harmful gases by almost 30-40% in the environment during Diwali time, he added.
Dr. Mandal said, Green crackers have controlled sound and intensity and are less polluting. Green crackers do have polluting chemicals like aluminium, barium, potassium nitrate, and carbon, but the quantity is to about 30%. These if present in the air, can trigger an asthma attack in a patient causing severe headache and respiratory problems apart from chronic cough.
Compounded with the farm burnings and the onset of the cooler weather conditions, smog formation adds to the problems. Smog develops when sunlight reacts with nitrogen oxides (factory emissions, car exhaust) and volatile organic compounds (VOC) (gasoline, cleaning solvents, paints) in the atmosphere leading to the formation of airborne particles and ground-level ozone.
To avoid worsening of existing lung problems, Dr. Mandal suggest the following:
· Avoid going outdoors unless essential (especially during early morning and evening hours)
· Avoid travelling to dusty or polluted areas – enjoy the fireworks from a distance
· Wear a simple cloth or triple layer mask while going outdoors
· Do not miss the regular medications, especially inhalers – important to avoid exacerbations / increase in symptoms
· Patients with respiratory diseases on inhaled therapy should be regular with their medications and not miss their medications
· Balanced diet with plenty of fluids, fresh vegetables and seasonal fruits
· Exercise regularly – walking, breathing exercises, yoga – preferably indoors